The holidays aren't always necessarily about limitless joy. If you're feeling anxious this season, consider some of the stress-killing tactics below.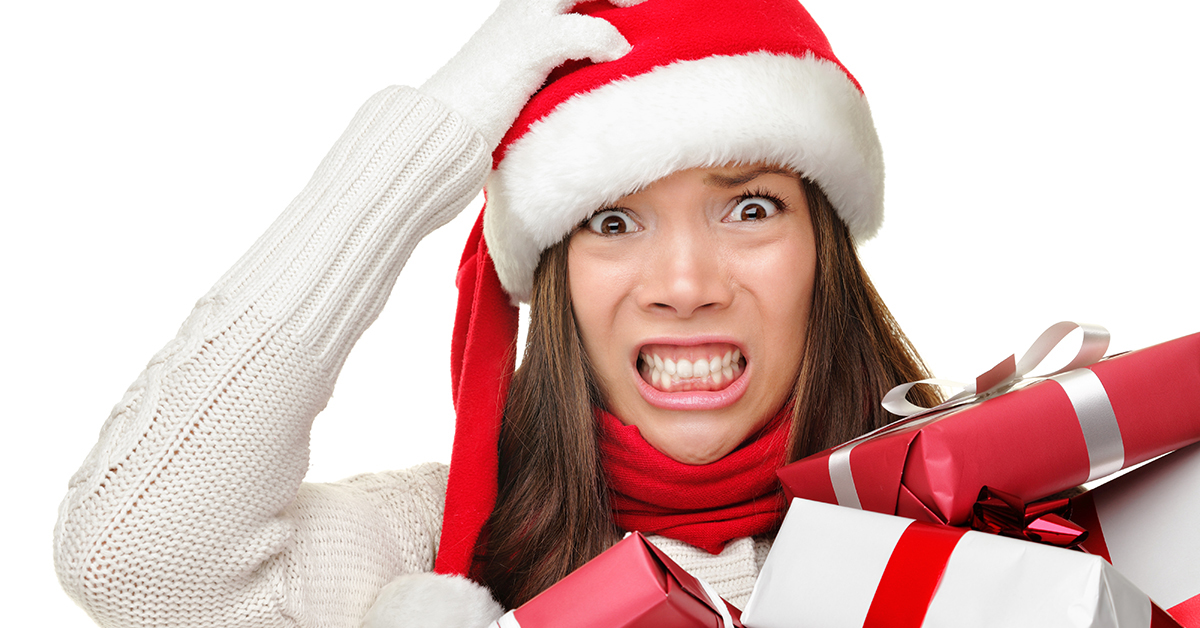 People often refer to this time of year as the Season of Joy, or a time to be merry, but for some of us, especially marketers, the holiday season is a stressful time of year that isn't quite as fun as all those holiday commercials indicate. There are deadlines to be met, clients to satisfy, and next quarter planning to be done. This all must be done before everyone goes on holiday vacation, so there is typically an even bigger crunch for time.
If you are feeling anxious about the holidays, consider the following holiday stress tips to minimize any negative feelings you may be having. Then, get into the holiday spirit so you can better enjoy time with your friends, family, and all the social activities on your calendar!
Holiday Stress Tip 1: Exercise
One of the most effective ways to skip the holiday blues and enjoy this joyful time of year is to get your body moving. Take a 10- or 15-minute break every day for a brisk walk, hit the treadmill before work, or even go for an indoor swim to raise your spirits and elevate your mood. Even if you can't get away from your desk while at work, you can work out your arm (and any of your frustrations) with a soft stress ball. Anything to get your body moving will help minimize sensations of anger, frustration, and fatigue.
Holiday Stress Tip 2: Watch your food intake
It is so tempting to grab snack foods and sugary treats during the holidays (the breakroom is usually full of them) but try to resist! Yes, many of us tend to use the winter season as an excuse for poor eating, but empty-calorie foods and sugary sweets can cause energy crashes and don't contribute to a sense of well-being. Instead, try to consume more vegetables and fruit than you normally do. Then, incorporate lean proteins and healthy fats to round out your diet and cut down on the holiday stress (or guilt). It is amazing what a healthy meal can do for your sense of wellness.
Holiday Stress Tip 3: Plan ahead
The holiday season is often characterized as an idyllic time in which to spend with family around the fire, swapping stories, exchanging presents, and eating delicious home-cooked meals. In reality, the holidays can be a logistics nightmare – requiring you to plan for extra busy times at work, balance visiting family members, elaborate food preparation duties, crazy shopping malls and expensive gift lists, and more. To help minimize stress this holiday season, consider ordering a desk calendar to more easily plan and execute your holiday strategy. Writing out lists and reminders is often helpful to feel organized and in control during the hectic holidays.
Holiday Stress Tip 4: Be generous
You can send customized gifts to your business relationships to solidify your commitment to them. It's the season of giving, and the smallest kind gesture can automatically make you feel happier and calmer. Also, instead of fighting to create the perfect holiday experience for everyone on your list, simply approach each day by asking, "How can I be more generous to those in my life?" This doesn't mean spending a ton of money on gifts or overdoing the holiday experience. Instead, create something personalized or creative that can show those around you how much they mean to you.
This festive season, don't let holiday stress and anxiety take all the fun out of what is supposed to be the most wonderful time of the year. Get moving, eat right, plan ahead, and act generously, and you'll bring a sense of levity and fun to the months ahead!