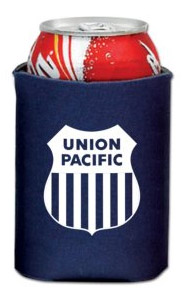 The Koozie is a popular sight at many summer BBQ's, at the poolside, or down at the beach.   As we glide past the Memorial Day weekend, enjoy 4th of July BBQ's, and culminate with Labor Day festivities, the summertime activities of our nation are centered around food, fun, and good company. Warm days bring people together, move them outdoors, and necessitate cool drinks to keep everyone happy.
The Koozie is perfectly designed to accomplish two things: it keeps your cold drink icy, and it prominently displays a logo for all to see. While many of us use Koozies with our favorite sports team logos or that of our favorite beverage company, a variety of companies have discovered the marketing advantage of distributing custom koozies.
Think about it, you're having a blast at a summer BBQ. You are connecting with those that you haven't seen in a while and sharing a couple of drinks outside. You install your custom koozie sporting the logo of one of your vendors. All of a sudden people will start to ask, "I see the name of that company. who are they?"  This is the type of advertising that most companies only dream of, conversations starting during happy social events that can spark an interest in your product or service.
It's going to be a hot summer and those who understand the fundamental benefits of timely marketing will appreciate all that a custom koozie can do for their business. Koozies are affordable, lightweight, easy to customize, and can bring your business name into the household. Many promotional giveaways remain at the office, in a desk drawer, or infrequently used.
A koozie becomes a part of a weekend BBQ, a day at the pool, or a family trip to the beach. For marketing teams, you can't ask for much more!