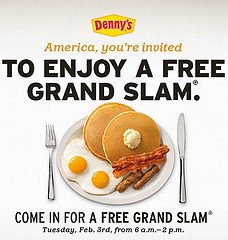 With the situation of the economy, companies need to work harder and harder to come up with marketing ideas and promotions that work. People are less reluctant to buy nowadays, so how can we as marketers entice consumer to pull out their wallets once again? The answer here is being creative. Here are just a few examples of how companies are rethinking their marketing strategies and creating marketing promotions that are worthwhile for the customer and for the company.
This past Tuesday, Denny.s had a HUGE marketing promotion inviting everyone in America to come eat a FREE grand slam breakfast meal at their restaurants. Denny.s whole marketing message was that during these hard times, you could still get a filling breakfast at an affordable price. The more I think about it, the more I realize that Denny.s marketing plan was brilliant. Denny.s doesn.t have many advertisements (at least I haven.t seen that many), and for them to show up with an ad at the Super Bowl with this type of promotion is a big deal. Offering something FREE, now that.s smart because people love FREE. People will get in line for an hour or two in the freezing cold to get FREE breakfast when they could have probably cooked their own breakfast in the comfort of their warm home. The Super Bowl ad may have cost Denny.s around $3 million and giving out FREE meals to about 2 million people surely has some up front cost. But with people ordering drinks with their meals and the cost of breakfast food be fairly low, they should probably break even because the margin on drinks is usually very high. The amount of publicity they.ve received from this promotion is worth way more than the cost of the ad and breakfasts. Way to go Denny.s.
Think about Nathan.s Hot Dog Eating Contest that happens every July 4th. The throngs of people that gather together to watch this contest in person or even on TV is insane. This contest is a big deal and brings in competitors and I.m sure even viewers from all over the world to watch people consume massive amounts of hot dogs in minimal amounts of time. Not only that, many of the spectators are lined up to order their very own Nathan.s hot dog. This creative way to promote Nathan.s Hot Dog has gained worldwide attention and surely has helped increase sales each year.
A little different type of creative marketing comes from Sam.s club. In order to boost sales, they are now offering a $10 gift card for people who sign up a new membership which costs $40 a year. I like this idea because it gives the customers something. People always want to know .what.s in it for me?. If there is nothing in it for them, why should they bother? This is a good promotion for Sam.s club because it gives customers 25% off their membership fee and gives them a $10 to spend right at Sam.s club. So while, the customer feels that they are getting a discount, that money does go right back to Sam.s club.
The key takeaway from all this is to think a little differently. How can you as a business, no matter what size you are, draw in your audience? Sometimes it may take a little up-front cost, but if you are willing to take the risk, you might be surprised at the return.
Photo courtesy of beastandbean