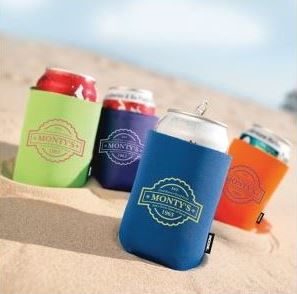 As spring is here and summer approaches, the days of barbeques, pool parties and summer bashes are in abundance. During these warmer days, there's nothing worse than having a cold beverage lose its crisp temperature because you didn't want frostbite on your hands. Or possibly you.re just a slow sipper and your drink acclimates to the surrounding temperature too quickly. Either way, keeping drinks cold is a long-time struggle that is in need of a solution. So if there's nothing worse than drinking a less than ice-cold beverage. what.s better than being the person who can solve that problem? Not much!
Koozies are a great way to keep beverages cold. Whether you are fighting the warmth of hands or the warm air, Koozies are able to keep the internal temperature of the beverage longer, making it the must-have beverage accessory for those warmer days ahead. Would you like to be the company who offers a cool, promotional Koozie that keeps those beverages frosty cold?
At National Pen, we offer a variety of customizable Koozies. The Summit Collapsible Koozie Can Kooler is a no tear, can-sized Koozie that comes in a variety of colors. For the bottle holder, Pens offers a Collapsible Koozie bottle Kooler that holds any 16-20 ounce bottled beverage. Lastly, for those who like to be the one to bring the party, National Pen offers a Koozie Swirl Lunch Tote, which is great for keeping lunch or multiple beverages cool.
Just about every company utilizes promotional items for trade shows, employees or clients. Why not give these important recipients something they will value and use time after time? Giving your clients something they will use on a regular basis keeps your business name or message right in the front of their minds. So help your customers keep their beverages cold time after time this summer with custom Koozies. View all your options here: http://www.pens.com/koozie.