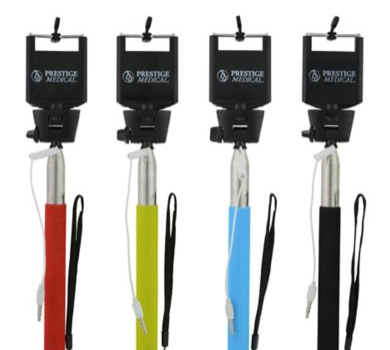 Nowadays, you can't go anywhere without seeing at least one person taking a selfie on their smartphone. Selfies are the most popular type of photos taken on phones, thanks to social media. But, anyone who's ever taken a group selfie knows how difficult it is to fit everyone into the picture. That is, unless you have a selfie stick! Many people use selfie sticks to help them capture the perfect selfie. If your business is looking for a promotional product that your customers will actually want to use, a custom selfie stick is the way to go.
When you're thinking about creating promotional products, it's important to consider what kinds of products will provide long-term value and usage to potential customers. Selfie sticks are great for promoting your business because they're functional and relevant to customers' lifestyles. Many people already use selfie sticks, so creating custom selfie sticks with your logo or slogan is a creative promotional tactic.
Their visibility is also another reason why selfie sticks are appealing as a promotional product. When someone uses a custom selfie stick, it immediately catches your attention, which is perfect for getting people to notice your business logo or slogan. Best of all, selfie sticks are easily portable, so your business gets continual free advertising wherever people take their selfie sticks.
Your business can use custom selfie sticks in a variety of ways. Selfie sticks are good giveaways at tradeshows and conferences because attendees can use them right away. For the entire event, people can take photos with their selfie sticks that have your logo on them. This is helpful for establishing both brand awareness and association for your business.
Aside from traditional events, there are lot of creative ways you can use selfie sticks for promotions. For instance, after you give away these custom selfie sticks, you can host photo contests on social media. Customers can submit their best selfies using the selfie stick for a chance to win prizes. These interactive contests are a great way to encourage people to use the promotional product and interact with your brand. By using customized selfie sticks as part of the contest, it showcases your business in a fun and interesting manner.
You can also buy custom selfie sticks for personal use! Available with low minimums, you can order custom selfie sticks for fun favors at weddings, parties, family reunions and more!
The LTV custom selfie stick is one of the most popular ones at National Pen. The selfie stick is 42" extendable and available in four versatile colors: black, green, blue, and red. Each selfie stick is made of aluminum alloy to ensure performance and long term durability, while the silicone handle provides all-day comfort. The selfie sticks are fully customizable to meet all your business needs. You'll be able to personalize them with up to five lines of text and a maximum of 26 characters per line.
There are a variety of options for what you can include on these selfie sticks, such as a custom marketing message, seasonal advertisement, business contact information, stylish logo or other information. Regardless of how you choose to design your custom selfie stick, we're confident that your customers or friends will absolutely love using them for all their selfies!