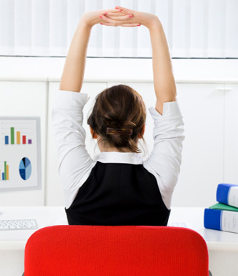 Tell me if this sounds like you. Every day, you are constantly at your desk. The only time you ever leave your cubicle is to use the bathroom or eat lunch, and even then, sometimes you work while you eat! After all, if you don't finish the work, who will? It doesn't take too long to feel overwhelmed with endless projects. However, sitting long at your desk for too has proven to be detrimental to your health.
Professor Alan Hedge, a professor of ergonomics at Cornell University, recommends the 20-20 rule. Every 20 minutes, stand up and take a 20-second stretch. He says, "Just 20 seconds away from your computer screen reduces fatigue and increases blood circulation."
Here are 7 simple stretches you can do throughout your work day to keep your energy up:
1. Shoulder Shrugs:
You're most likely typing at your work computer throughout the good majority of the day, as stress and tension build up in the neck and shoulders. In order to prevent further strain, remember to squeeze your shoulders as hard as you can and roll them up to your ear and then down. Repeat for 8-10 reps.
2. Back Stretch:
Give yourself a nice big hug by placing your right hand on your left shoulder and left hand on your right shoulder. Then, deeply breathe in and out.
3. Spinal Twist:
With your feet planted on the ground, contract abs and twist your body to the right. Twist as far as your body will allow without compromising your hips from being square. Grab the sides of your chair and hold for 15-30 seconds. Then repeat on the other side.
4. Abdominals:
Reach your arms above you and lean back. Your chest and chin should both be pointing towards the ceiling.
5. Neck Stretches:
Start by sitting tall in your chair, with your head directly over your shoulders and your shoulders directly over your hips. Slowly lean your right ear over your right shoulder and breathe deeply. Then switch to the other side.
Of course, you can always use stress balls to relieve achy hands or calm nerves.
By practicing these exercises, you can help your energy levels and stress while you work!