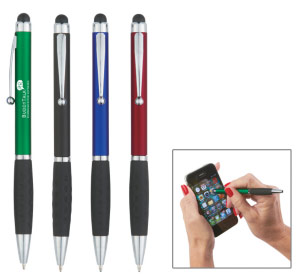 The popularity of touchscreen devices makes stylus pens a perfect promotional item
When it comes to promotional giveaway items, you can.t beat the simplicity, utility, and economy of a quality promotional pen. Pens are used every day, and it seems that you can.t have too many writing implements around the office, in your car, or at home. With the recent popularity of touchscreen devices like smartphones, tablets, and sophisticated new laptops, a promotional stylus pen is an incredibly useful additional to your marketing kit. Stylus pens incorporate a soft, yet highly controllable end piece that makes accessing all of the functions of your smart device a snap. As phones become slimmer and more feature content is packed onto each page, it becomes increasingly difficult to text, type, or email using standard smartphone keyboards. A stylus helps increase the accuracy and speed with which you can interface with your smartphone making the stylus a terrific modern day promotional gift.
What options are available in promotional stylus pens?
The savvy marketer will no doubt match the stylus pen to the target audience, but no matter who the end user is destined to be, stocking a variety of stylus pens will help you tailor your approach. Standard stylus pens are available for as little as 57-cents each and can arm your sales and marketing force with an economical and useful batch of promotional items that are sure to see use. Just think, with the amount we all use our smartphones and tablets on a daily basis, wouldn't it be fantastic for your clients or prospects to see your company's logo or name each time they send a text, email, or even dial their phone?
Upgrades to the standard stylus pen include:
These permit easier manipulation of the stylus in low light situations and even provide enough illumination to be used in an emergency. Can.t quite find the keyhole on your front door at night? Simply use your stylus pen light and you'll be able to cut through the darkness. Laser engraving puts your company name or logo in the customer.s hands. Many of these pens are 3-in-1 units, combining a flashlight, a stylus, and a traditional pen all in one!
Combining the benefits of a stylus with the usefulness of a laser pointer, these combo units deliver incredible perceived value and offer the ability to showcase themselves in high-profile meeting rooms and boardrooms across the nation. Your logo will be seen by the decision makers of businesses across the nation.
These units are conveniently used with your smartphone, tablet, or laptop and guarantee that a stylus is always right at hand. Use as a pen, tablet stand or flashlight when you need them most.
Other stylus pen options are available today and provide incredible utility for nearly any modern touchscreen user. With some models featuring integrated lasers, LED flashlights, or high-quality pens, these units will provide a lasting and effective platform on which to market your business or organization.