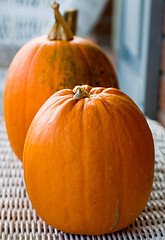 Happy Halloween!
Each year is filled with holidays and special occasions that you can use as an opportunity to promote your business and services. Halloween is one such opportunity where you can engage with your current customers and try to attract new customers.
A few years ago, a few days before Halloween, I arrived home to find a pumpkin at my door. Attached to the pumpkin was a little goodie bag with pumpkin carving tools, carving designs, a few pieces of candy, and a note from a local realtor wishing me a Happy Halloween.
What a great idea! I.m sure many people were surprised and delighted to receive a gift and I.m sure that families with kids enjoyed the pumpkin and goodies even more. Leaving a pumpkin with some treats to market your business or just let people in the community know that you care and are interested in them is such a simple and nice way to promote yourself.
Buying a pumpkin for many people may end up costing more than you would like, but handing out little goodie bags with your information, a small note, and some treats is inexpensive and will still get the message across. Many party stores sell Halloween goodie bags and you can often get a bag of candy for $2-3 at your local supermarket. As for promoting yourself, there are many promotional product companies out there that sell items you can put your name and logo on. Other ideas include making your own personal Halloween cards or creating little tags with your business information that you can attach to the goodies in the bag.
It.s simple and effective. Create and give out a gift that will be remembered.
Have fun and be safe this Halloween!
Image Courtesy of ncbrian