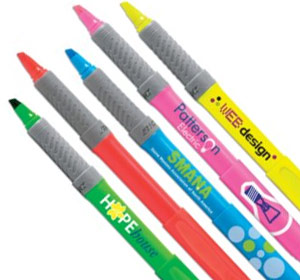 Highlight the benefits of your organization with a practical and memorable highlighter
Highlighters are found in nearly every office around the world and are popular among students and professionals alike. Whether you.re looking to make a big impact with your book of prospects, your list of current clients, or any specifically targeted group, you'll find that highlighters provide a practical and fun medium for getting your message out. Highlighters are useful in just about any setting, and can be ordered in a variety of configurations to match the needs of your targeted audience.
Some of the most inventive highlighters available today include:
Metallic Duet Pen and Highlighter: These are double-ended pens that include a high-quality writing pen on one end and a chisel tipped highlighter on the opposite side. This configuration is highly usable for students, who often find themselves taking copious notes in their textbooks, while also highlighting important passages. These pen/highlighter combinations are also terrific for those who attend a lot of meetings, as the ability to switch between writing and highlighting is truly practical.
Bic Brite Liner Grip Highlighters: These comfortable and highly usable highlighting pens sport barrel colors that match the color of the highlighting ink. They are available with your customizable, screen-printed logo or graphic, and are sure to make a statement to customers and prospects alike.
Pocket Highlighter: This tri-colored highlighter delivers a whole lot of highlighting power, along with a big surface area in which to apply your logo or company name. Three separate colors, purple, blue, and yellow, provide a highlighting choice for any situation. Students love the different colors, as this allows for better organization and categorization of notes and readings.
Erasable Highlighter: This innovative highlighting set delivers the benefit of six separate highlighter choices, with an integrated eraser housed in the body of each pen.  Highlighters are rarely found with an eraser function, so this will certainly be a much talked about addition to your promotional giveaway portfolio. Screen print up to 18 characters on each highlighter for a powerful new marketing tool.
Oasis Bottle Inspired Highlighter: This promotional highlighter is fantastic for any purpose but really resonates with those who value environmental responsibility and the green movement. Tell those whom you interact with that the environment and our collective future is worth highlighting!
There are countless variations of highlighters available today, and just about any style is bound to impress your clients or potential business contacts. Highlighters, like promotional pens and calendars, provide an immediate and practical benefit for the end user.  So shed some light on your company's mission with innovative promotional highlighters from National Pen.