How can you show your appreciation for all the hard work your employees put forth all year? Or how much you appreciate your customers for being the integral part of you and your businesses success? Typically, many companies choose the holiday time at the end of the year to show their gratitude . either through holiday parties, company outings, employee gifts, or customer appreciation gifts.
But what is the ideal item or gesture? Often times business owners, especially small businesses struggle to find the balance between cost and quality. Budgets are tight, especially this year, and being able to express your gratitude without breaking the bank is a tightrope walk almost every business owner is familiar with.
The answer doesn't have to be a compromise on either side though! With a little thought, many companies will find that they can offer a low-cost AND personal gift for everyone on their list! Personalized products offer the ability to show your customers and employees how much you care, while adding that extra touch of class!
Mugs
, high-value
pens
, and
calendars
are the perfect way to give them a gift that will last and remind them all year that you were thinking of them. Filling a mug with candy or popcorn is a great way to dress up a simple gift. Putting a quality pen in a small stocking will add a bit of cheer! Calendars are always a great gift this time of year, just as last year's calendars are running out!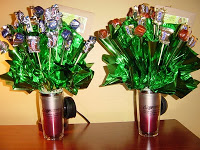 No matter what you choose, it's always the thought that counts. So make sure your gifts reflect just how much thought you put into your much-appreciated employees and customers. For more holiday gift ideas, check out our
holiday gift guide
.