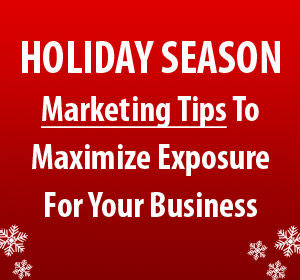 Marketing early and often is the key to a great holiday sales season
The holidays are right around the corner. Thanksgiving signals the unofficial beginning to the holiday season, and that means holiday meals, family visits, wrapping presents, and the inevitable shopping trip (or trips!). Those who rely on the purchasing power of consumers or businesses must capitalize on this timeframe that normally spans the month and a half between Thanksgiving and New Year Day. Some of the most powerful ways to market your business during this lucrative time are as follows:
Market early and often – You'll want your clients thinking about you and your business before they are ready to make a purchasing decision.
Communicate to your target audience through a variety of mediums – Facebook promotions, direct mail campaigns, gift baskets, and holiday themed coupons will help increase awareness around your business or organization.
Most people or businesses purchase due to repetitious and effective advertising. Send something that is holiday themed or provides timely value to your prospects and current customer base often. For example – custom, holiday-themed pens could be sent in multiple waves so the client is reminded of your business during this festive time.
Create limited time offers that tie in the holiday season. A Thanksgiving special, Christmas deal, or New Year.s promo can drive in business while establishing a specific time-frame and sense of urgency in the client.
Send custom holiday cards to all of your prospects and current customers. Many cards are available with .seasonal. greetings versus religious messages, so you.ll be able to connect with just about anyone.
Send promotional giveaway items to your base that are just one step above the normal items you deliver. This is the time to show your customers and prospects that you care enough about them to send a thoughtful gift.
The holiday season is a time of year that provides you with an opportunity to market to your target audience and show your customers that you value their business. It is crucial to market early, to communicate often, and to give your audience a reminder of why your relationship is so important.
With a variety of holiday-themed promotional giveaway items and seasonal gifts, National Pen offers thoughtful and effective marketing products to help you secure more business. With the holiday season upon us, it is more important than ever to show your clients that you value their business!