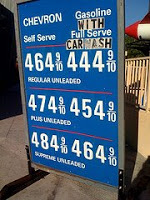 With gas prices on the rise and the fall of the American dollar, it can be a scary time to be a small business owner. It doesn.t have to be. If you use these facts to your advantage, you can take over, or at least be competitive in, your local marketplace.

. Customers Are Shopping Around. In tighter economies, people need to stretch their dollar further. Many of your competitor.s customers will shop around to find the best deal. This is a great chance to lure people in with sales, first-time client discounts and more.

. Loyal Customers Need Love Too. Maintain your existing customer base by pairing good prices with a loyalty program. Hold on to your customers -if you offer them good reasons to stick with you, they will.

. Competitors May Disappear. Some businesses will not compete successfully in a bad economy and may downsize, scale back their product/service lines or even go under. Make it easy for their past customers to transition to your company and they.ll be happy to make the switch.

. Customers Want Satisfaction. The best way to keep customers happy is by offering great customer service. In times of hardship, people need to know who they can trust. Give customers a reason to trust you and they will stay by your side.

. Fewer Companies Are Advertising. Your competitors will not pay for advertising when profit margins are shrinking. Take advantage of this by following our instructions on marketing for virtually free.

Being a successful business person doesn.t depend on the economy so much as knowing how to manipulate information to your advantage. Using the marketplace to give you an upper hand is a helpful business tactic that can be used in all economies.

How do you fare in bad economies? Do you have any advice?