One of the easiest ways to keep your message around month after month is with a promotional calendar. Calendars don't get thrown in a drawer, they get coveted wall space, and they are a unique way to display your personalized message. Cost-effective and budget-friendly, calendars are a great way to show your customers and prospects you care. They make great holiday gifts and are the perfect way to generate goodwill and brand awareness at the same time!
We offer a variety of calendars and planners to fit your brand, your budget and your look!
Our most popular option, the Reflections Wall Calendar, offers style and stunning graphics for a fraction of what you would think.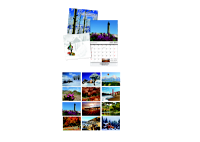 For a touch of fun, choose the Mickey and Friends Wall Calendar with colorful Disney designs.
The Translucent Monthly Pocket Planner comes in vibrant colors and will help keep your ad message in the hands of your customers and prospects all year long!
The Deluxe Weekly Planner with a FREE pen is sure to impress everyone who receives this elegant planner.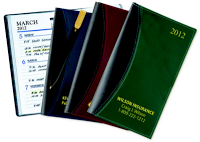 No matter what your budget or your style, there is a calendar out there for keeping your business in view 12 months a year. Tell us what works best for you and your business!
Connect with us online!
Follow us for helpful tips & special offers