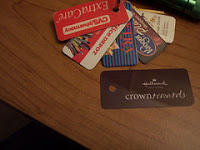 A great way to maintain loyalty, beyond offering great service and a great product, is by offering a rewards program. You probably belong to at least one rewards program, whether it's a sandwich shop card, credit card points or a frequent flier program.
Rewards programs work because everyone wants to be rewarded for doing something they enjoy doing anyway. Who says "No, I wouldn't like a free sandwich now that I've bought my fifth one here?"  There are a variety of different programs to choose from and I'm sure one of them can really help your company.
Frequency Cards. Create a card for customers to carry around and once they get enough stamps, they get something free. This system works best for businesses that have one main service or product, like a sandwich shop or dog groomer.
Spend $100, get 15% off next purchase. This system is similar to the one above, but it is better adapted for companies with multiple products and services, such as spas, retail shops, etc.
Schedule your next appointment now and get $10 off. This is a great offer for places like salons to get customers to book their next appointment while they are still euphoric from getting their recent service done.
Reach platinum level, get a gift. This program operates with a point system. For example, customers receive 10 points for every dollar spent. At 100 points, they earn a promotional pen. At 1000 points, they earn a company hat or a free service/product.
Refer 5 customers, get a $50 gift card. Referrals are great for every business, but for some, they are critical. Cell phone companies frequently use this program, offering customers a $25 credit for each friend they get to sign up.
If you want to keep customers loyal, you need to keep offering a great product at a great price with excellent customer service. But following these tips will help bring loyal customers back again and again.
Did you know Starbucks just launched a new rewards program? Customers who register their rewards cards online will be able to partake in free refills and wifi while in the stores.
What rewards programs do you take advantage of? Personally, I like my credit card.s cash-back rewards.
Photo Courtesy of mandamia