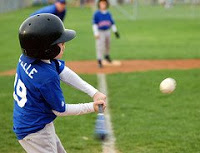 Have you ever noticed all those organizations that sponsor the local Girl Scouts, little league games, community picnics, etc.? People support those businesses that sponsor because they have shown an interest in the community and want to help. You can be one of those companies.
Sponsoring local events will build your image in the community. As an extra bonus, if the event is run by a non-profit organization, contributions are tax-deductible. There are many inexpensive ways to show your support and get your community.s support in return.
.Provide food. Bringing hot dogs or drinks to a small event could cost under $50, but will get you remembered.
.Donate products for a raffle. Many events use raffles or other competitions to raise money. Donate products for gifts and you.ll be appreciated by everyone at the event, not just the winner.
.Offer services for the event. If you own a printing service, offer to print flyers or programs. If you are a furniture rental service, loan chairs. Anything you can offer a community event will be welcome.
.Donate employee time. Sometimes the best thing you can do is offer a helping hand. Offering multiple pairs of hands will show your company.s generosity.
Sponsoring community events will not only get you known by attendees, but your name will be spread around town as a business that cares.
How have you helped out your local community?
Image courtesy of partsnpieces