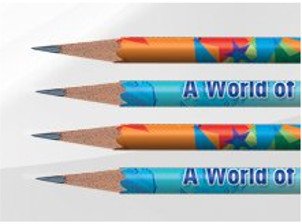 It is back to school time! From haircuts to the first day of school outfits, it is a familiar season that everyone knows far too well. Teachers are organizing their desks and collecting their lesson plans, principals are preparing the first-day assembly. What can set your school apart from others and create a sense of community that every student is urging to feel?
Having personalized pencils or other school supplies with text such as "I am part of Mrs. Torrence's 2nd grade class" or "Hardworking Student of Hillside Elementary" can create a sense of belonging that students appreciate.
For some children, school supplies are not affordable for their family. Although a pencil seems like such a small gesture, for the child that doesn.t have a pencil on the first day of school, you have just made their world so much brighter.
The Hex Pencil is one of the best budget options. As low as $0.12 each, the Hex Pencil can be personalized at an affordable cost. The Full Color Wood Pencils are a bright and colorful option that can also be personalized.
Whether you are shopping for a preschool, elementary school, middle school or high school, make your back-to-school shopping or marketing efforts something that will create a sense of community and smiles!