Halloween is a big deal for us, so capitalize on the fun and excitement!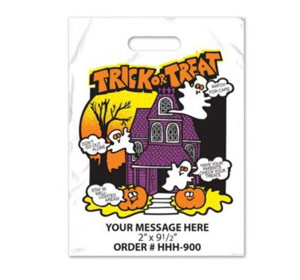 According to the National Retail Federation, 43% of all Americans will put on a costume and hit the streets during the night of October 31st, Halloween night, one festive, fun, and sometimes creepy evening, motivates Americans to spend on average of $7 billion on costumes, candy, decorations, and party supplies.  In fact, the average adult spends almost $30 on a costume and $20 on a child.s costume. The average candy budget per household is over $21, and nearly $20 is spent in each household on Halloween decorations. This is a significant amount of money per household (especially considering it is for one evening) and indicates that Halloween is a marketing opportunity that must be capitalized for any business.
The real trick? Provide a Halloween bag as a treat and you'll boost your results!
One of the most useful Halloween promotional items your business can distribute is candy bag sporting your company name or logo. Kids (and some enterprising adults) need these bags to tote the massive amounts of candy they will end up collecting over the course of a Halloween evening. Halloween bags come in a variety of shapes, sizes, and configurations.
The traditional Halloween color is orange – most likely a representation of the bright orange pumpkins that dot the doorsteps of suburban neighborhoods, but a variety of hues are available in Halloween bags. You might want to consider white, or a bright colored bag to enhance nighttime safety and visibility, or play it safe and stick with Halloween orange. You can also tailor the bag color and design to your company.s logo or insignia.
Kids of all ages will use a Halloween bag on the night of October 31st, but you'll want to pay attention to your target audience and determine which bag size is most appropriate. Smaller children can't haul around a gigantic bag full of candy, so you may want to order a variety of sizes to accommodate all trick or treaters.
Also, these bags are generally designed to be used for just one night, but you'll want to invest in a quality bag so you don't disappoint a child with a torn candy bag that deposits hard-earned sweets all over the street. Halloween bags are a perfect promotional giveaway item that provides utility, incredible brand awareness potential, and are inexpensive to distribute. Imagine the positive correlation that will be drawn between your organization and the sweet stash of candy that lies inside your promotional Halloween bag.