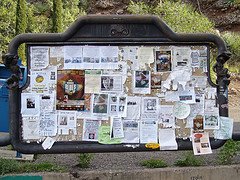 Visibility in the online space is important, but it is just as important to promote yourself offline. Chris Crum from Small Business Newz wrote a great article on places you could advertise your business offline.
Stickers
Throw in a few stickers in the package or bag your customers receive. People love free things. Plus stickers are an effective way to promote your business to those who normally don.t surf the web. You may be able to reach a new group of people with your logo and website imprinted on a sticker.
Flyers
Handing out flyers does not seem to be as effective as posting them somewhere. Post up your flyer in places where people often have to wait or spend a short amount of time such as bus stops, subways, telephone poles, etc.
Bulletin Boards
Often times bulletin boards are put up so people can advertise local services or goods. Check out your local stores, school, or library for bulletins to leave your business card or flyer.
Attire
Give away free shirts to your customers and employees! There is a good chance that they will wear it out in public for all to see. They can be a walking billboard for your company!
Auto
Look for people who are willing to promote your services or goods on their cars. I.m sure you.ve seen cars with advertisements on the window. This is a good way to reach plenty of people.
Most importantly, whichever offline methods you use, make sure you stay consistent with your messaging, logo, information in all forms of media (on the web, stickers, flyers, catalogs, etc). Also, don.t forget to include your website address and any other important contact information.