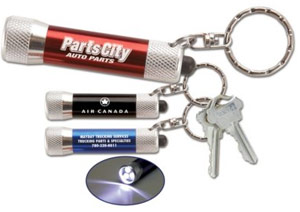 Marketers are always looking for a way to put promotional items in the hands of prospects and customers that can actually see real-world use on a daily basis.  For example, you can certainly give away a customized 4th of July picnic table centerpiece as a promotional marketing item, and it will see use on exactly one day out of the year. For most of us, we don't leave the house or hop into our cars without a key ring.  From a marketing penetration standpoint, it makes sense to provide a promotional item that can be affixed to a keychain. This increases the number of views your logos receives and is a constant reminder of the benefits of working with your company.
Custom keychain flashlights are a phenomenal promotional item for many organizations as they are a constant visual and tactile reminder of your company.
They are either dangling from your steering column while driving, in your pocket or purse as you stroll down the street, or on the key ring at home.  Either way, the keychain flashlight is always there!  From a consumer standpoint, the benefits of having a flashlight at the ready are real.  Can't find the keyhole as you try to enter your unit residence? Your flashlight is already attached to your key ring!  Can't seem to find that item that fell under your seat in the car? Your flashlight is at the ready.  Even the fact that a flashlight adds to a sense of security for many people means that a keychain flashlight makes a great promotional item.
Modern advances in flashlight bulb technology have made small LED units more affordable as promotional giveaways.  These small but powerful flashlights are able to offer much more illuminating power than previous designs, and provide incredible battery life.
Emblazing your logo on a keychain flashlight can create a powerful and usable promotional giveaway that can literally help shed more light on your brand.