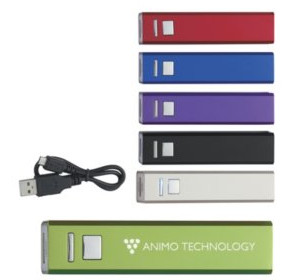 Our society today is extremely mobile. Conference calls happen while you're driving to the airport with your headset on. Emails are replied while you're pumping gas, and business hours are no longer limited from 8 to 5. The biggest facilitator in this cultural shift was the introduction of internet capabilities on wireless devices such as smartphones, tablets, and computers.
Most people use one smartphone for both their work and personal use. But what happens when you're on an important call, you see a text message from one of your family members come through, and then you notice that your battery icon is displaying that little red sliver notifying you that you.re down to the dangerous 3%. You shouldn't have to be put in that situation of choosing between finishing the call or replying to your family member before the battery runs out.  And until the bionic battery with a 300 active hour charge life is invented, this is a situation that almost everyone will continue to face on a regular basis.
However, the Portable Charger uses a 2200 milliampere-hour (mAh) battery that easily connects to your iPhone 5, iPhone 4, iPod, Smart Phone or MP3 Player on the go with no other power source needed. That's right!  This little emergency battery can re-charge almost any mobile device anywhere and can provide hours of added battery life. Simply use the connection cable to plug the portable charger to your device. Small enough to fit in a purse, wallet, or car console, you will want several of these little emergency savers to keep wherever you find yourself running on low battery.
Giving your clients the Portable Charger branded with your logo is giving them something they will need and utilize almost daily. The Dual USB Portable Car Charger and the On the Go Portable Car Charger provide car charging capabilities through the 12-volt auxiliary power outlet in your car with the help of a USB charging cable.
Whether you are looking to have self-sustaining charging capabilities or just the added convenience of car-charging, giving your clients the ease of mind and a quick way out of the 3% battery life danger zone is something they will remember!