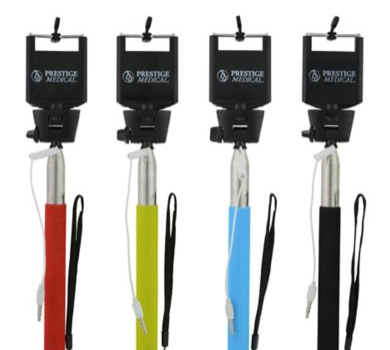 We know that your promotional products are a key component of your marketing plan. But here's why you need to add Selfie Sticks to your repertoire of items.
Likes on Instagram and Facebook have become the ultimate signs of success. What started out as a teenaged fad is now a worldwide phenomenon, and the selfie movement shows no signs of slowing down. Selfies are the new way of documenting your life, showing off to social media what you are doing, with whom, and where. This new form of picture-taking spans further than personal use of sharing photos with friends, however. It has expanded to the business world, opening doors to new marketing strategies that appeal to the Millennial generation and creating unique, visual content.
From a marketing standpoint, selfie marketing is extremely organic. If a consumer posts a picture of themselves with a favorite item, tags the company, and #hashtags the product, their followers and friends see the "review" and generate interest. On a larger scale, well-known social media influencers (celebrities, popular bloggers) are able to endorse products through their high status. Are you wondering how to get in on this selfie-sensation? There are multiple steps you can take. First, you must create social media accounts for your company in order to be tagged and followed. Creating a unique hashtag for your company or product drums up recognition. When your customers take a selfie with your product, they can throw in the hashtag in the description. Lastly, be active in posting to your own social media accounts – post your own selfies!
What started off as an inventive woman attaching her camera to a stick has evolved into an easy way to get a high-quality photos, and is becoming a common photography tool. Having this hot new promotional item will show that your company is with current trends. And who knows? Maybe your company will go viral with #yourcompanyrocks because you are the ones offering the selfie stick.