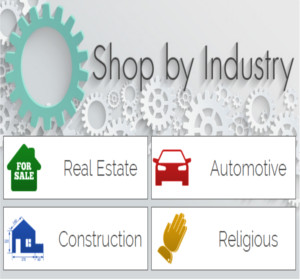 If pens are the only promotional items to come to your mind, let National Pen help! We specialize in out-of-the-box marketing thinking and have created a variety of promotional items that are industry specific for four of our largest industries.
Construction
As much as we wanted to help you design the blueprints of your next big project, we thought we would be more useful helping you with the marketing. I hope your blueprints came out as awesome as our brand new Construction Page! We found items like a 6 in 1 Screwdriver, a Hard Hat Stress Reliever, and a Koozie 6-Pack Kooler lunch bag that we thought are perfect for your industry that can be branded with your company name AND we put them all in one spot!
Real-Estate
While you were closing the deal on the last house you sold, we were busy figuring out how we could better help you with your next open house! Our Real-Estate Page is sure to help you sell that next house even faster than the last! You always get that Type-A personality wanting to make sure that their furniture will all fit before they even check out the upstairs. That.s why our Tape Measure can be found on the Real-Estate page and is ready to display all your contact information! Make the event welcoming with custom Door Hangers and colorful Balloons!
Automotive
We know your hands are busy changing breaks and replacing tires, so we put ours to work by compiling the best promotional items for the automotive industry on our Automotive and Home Page. You know automotive safety better than anyone, so why not share it (and your logo) with The Emergency auto safety tool. From an On-The-Go Car Charger for electronic devices to the Mini Ice Scraper, leaving these little gifts in your client' cars is a nice charming touch. They can all be found on our Automotive Page.
Religious
While you were focusing on spiritual growth, we were focusing on how we can help you share it! Our Religious Design page hosts a variety of religious designs that can be applied to some of our best selling items! Ceramic Mugs can display a simple yet strong cross design while the inspiring words of John 3:16 can be the background of a calendar magnet. Jewish words of faith can be displayed on our best-selling Contour Pen. Whatever spiritual design you chose, we can help incorporate your logo or contact information so you can make the best impression.
Whether you are in the Construction, Real-Estate, Automotive or Spiritual industry, make your marketing more creative and targeted.