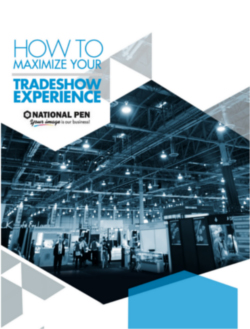 Trade shows are a wonderful way to gain exposure to prospective customers or clients at an industry focused event. Those exhibiting and attending are usually intensive around one subject or industry such as technology, home improvement, and medical. Planning for a tradeshow can be an exciting process, but can also be quite daunting without guidance.
Whether you are a tradeshow newbie, you've gone to a tradeshow and wish it had gone better, or maybe it went great, and you just want to make it even greater, this free ebook download is for you!
Included eBook Features for Your Tradeshow Experience
This tradeshow experience eBook is a one-year planning guide of how to be a successful exhibitor at a trade show. Having a guide like this will ensure that every deadline is met, your staff is prepared, and that you are completely ready for the big day. From travel accommodations to ordering your promotional items for the perfect tradeshow table, this guide lays out all of the steps you need to take in a timeline format so all you have to worry about is doing your best.