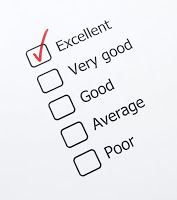 Before I purchase a product, I like to do a bit of research on the product and company I may be potentially buying from. I'm looking for quality, credibility, and reliability in the product and company. I want to hear the opinions of people who have purchased that product and purchased from a specific company. As with most shoppers, I would have the following questions:
. What did people like/dislike about the product?
. Did the product meet expectations in terms of performance, look and feel, etc.?
. Is the company credible and reliable?
. Do they provide all the information necessary for me to make a purchase?
. Do they ship their products at a reasonable speed?
. How is their customer service?
. Does the company believe in their product? Have people had success using their products?
. What do people like about this company?
. Would they do business again with this company?
The answers to these questions are important to prospective buyers. As a business, it is important that you can address these questions. Consider setting up customer reviews for products on your website. Prospects also want to know that the company they are potentially going to hand over their credit card to is credible. Testimonials are a great way to do this. Having your very own customers vouch for you is an excellent way to promote your business. This shows that you have happy customers that are willing to shop there again, that believe in your products, and enjoy your service.
The next time a customer emails you about how great your product or company is, don.t just keep it for yourself. Broadcast it. Put it on your website for everyone to see. This will show prospects that you have great products and great service and that they should buy from you.