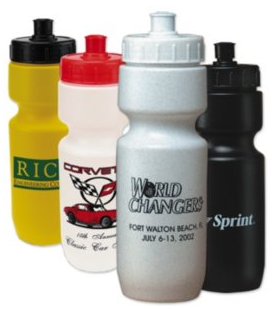 Here is a shocking fact: In 2006, 1.3 million tons of plastic water bottles were produced in America, which required the energy equivalent of 50 million barrels of oil.  About 76.5% of these bottles found their way to the landfill.
Consumers today know that the decisions they make have global ramifications.  With filtered water consumption increasing year after year, savvy consumers are switching from disposable water bottles to refillable sports bottles en masse. These bottles prevent serious buildup in our landfills and allow more affordable consumption of water.  After all, bottled water is expensive and you can certainly refill a sports bottle from a filtered water dispenser on your home refrigerator!
The market for custom water bottles is booming, and today is a great time to take advantage of this boost from a marketing angle.
There are few consumers today who don't use a refillable sports bottle, so why not take advantage of this fact to get your message out?  Most people use theirs daily, and the specific design on the water bottle helps to differentiate the bottle from those lurking in the cubicle next door.  With the focus on the green movement and eco-friendly products, this is a fantastic way to increase market penetration and show that your organization supports responsible causes.  According to the latest data, Americans consume an average of 167 bottles of water per year. This means that the ability to increase exposure for your product is substantial.
Consumers are using their sports bottles on a daily basis. Take advantage of a powerful marketing message by affixing your logo to a quality water bottle. Your clients and prospects will likely use your sports bottle several times per week and that's the type of promotional giveaway that really pays back.