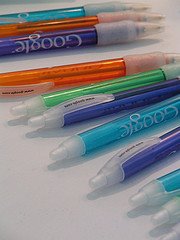 With the New Year coming up quickly, small business owners are looking to strategize and finalize their marketing plans for 2009. While traditional methods of advertising such as print ads, television, and radio always seem to be in the marketing plan, advertisers might want to put more focus on an alternative form of marketing next year. What might that be? Promotional products, giveaways, swag, freebies, whatever you want to call it, it is simply a product imprinted with your company logo, name, and/or contact information.
The Advertising Specialty Institute just released results from a study focused on the cost analysis of promotional products compared to other advertising media. Surveying 600+ people in New York, Chicago, Los Angeles, and Philadelphia, the ASI team focused on understanding how promotional products influenced consumers to purchase, determine the number of impressions promotional products produced, and to compare the Cost Per Impressions (CPI) of these products compared to other forms of advertising.
Major findings concluded:
More than 80% remembered a business based off of a product they received
42% had a more favorable impression of an advertiser after receiving a promo item
Nearly 25% felt that they were more likely to do business with an advertiser after receiving a product from them
Over 50% owned promotional writing instruments, followed by shirts, caps, and bags
81% kept promo products because they found them to be useful
More than three-quarters kept their swag for more than 6 months
Among wearables, bags were used the most frequently . being used 9 times a month
Average CPI of a promotional product is $0.004 resulting in an extremely high return on investment from promotional products compared to other forms of marketing
With the small businesses focused on continually driving sales while minimizing their cost, promotional products are the way to go as it yields a more promising ROI than other forms of advertising.
For the small business owners out there, have you had success bringing in customers with promotional products? For the consumer out there, have you ever bought something from an advertiser because of the swag you got from them?
Image Courtesy of peterkaminski