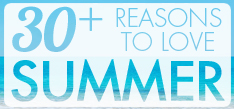 With so many promotional gifts available today that are geared towards fun in the summer sun, you'll add serious marketing power to your promotional arsenal when you focus on summer-themed gifts!
When it comes to finding the absolute best promotional gifts on the market today, ensure that you source items that combine real-world utility, a reasonable price point, and long-term durability. To add even greater potency to your suite of offerings, consider adding several variants that tag on to a seasonal theme. We're right in the swing of summer right now, so take the time to add summer-themed gifts to your marketing toolkit and you'll fare better when it comes to targeting the key players within your industry.
Give your customers and prospective clients even more reason to love this season with incredibly enticing promotional gifts that can make summer even better. From gifts that enhance backyard BBQs to those that make days at the beach even more pleasant, you'll delight the lucky recipients in your industry, while reinforcing the importance of your mutually beneficial relationship.
When you send summer-themed promotional gifts to clients and prospects you show that you care about them, and you make their life better – one beer can Koozie at a time. Best of all, investing in summer-themed promotional gifts serves to highlight your business or organization, and does so in a way that correlates good times over the summer with your business name. This positive brand recognition will help you to enhance market penetration and win new business.
A variety of gifts are available today that can help you to drive your business forward – and any promo items that tie-in a summer theme can truly make a lasting impact. Deliver a batch of customized zip-up bottle Koozies to your prospective clients and they'll keep their favorite beverage cool while fondly gazing at your customized marketing message, or reward loyalty among your top clients by providing them with a customized rolling cooler case. Personalized silicone speakers with integrated phone stands can elevate the mood at any summer gathering, while a rechargeable power bank can keep the tunes coming for hours on end.
Fun, summer-themed games are also bound to be a hit with clients and prospects, so choose promo items like mini flyers, flexible flyers, and more to provide hours of entertainment. Keep your valued business contacts protected from the ravages of the sun by delivering a batch of customized lip balms in a variety of flavors, or send a personalized, screen printed baseball cap to provide shade from UV rays.
Marketing your business with summer-themed gifts is an incredible tactic that can keep your business name at the forefront of your industry. For special summer-themed gifts that are available today at factory direct prices, visit https://www.pens.com/summer-products.