People have been writing love letters for centuries. The time and effort needed to express your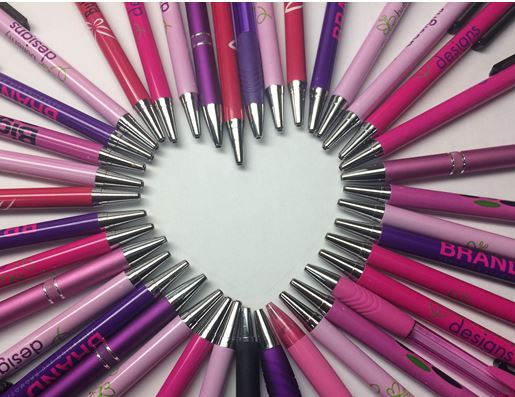 feelings and emotions poetically through words are almost more romantic than the words themselves. But in a new world of texting, have we lost the art of writing love letters? Limited by character count and time, we are in a time where "I <3 u" and ILY. need to convey the same message of love.  It seems as though something as real and complex as "passion" has been reduced to a few simple letters.
If you are looking for a simple and thoughtful Valentine's Day gift follow these simple easy to do steps:
1. Disconnect to Connect:
What's that mean?  Put down your phone and close your laptop. Remove distractions.  Whether it's "work work work work work," social media overload or simply just grumpy cat memes, set aside 10 productive minutes dedicated and focus to your loved one.  So, remove all distractions.
2. Grab your favorite pen …and paper too!
Like the good ole' saying goes, "Look  good, feel good, do good."  Grab a pen, preferably an awesome "National Pen" Contour Pen with a rubber grip and exclusive SmoothWrite® Ink, then get some paper.  Because nobody wants a love letter on the back of a receipt.  While you're at it, maybe a few sheets since your first couple drafts will probably end up in the trash as you try to bring to life the right combination of magical words.
3. Ready… Set… Write!
Start by jotting down some adjectives that come to mind when you think about your loved one.  Then list out how she/he makes you feel?  The journey and goals you share in life and how they contributed to where you are today.  Convey these ideas into sentences. Did you get those extra pieces of paper?  Like I said, you may need to re-write it a few times until you get the flow just right.  Shakespear didn't build Rome in a day?  Wait, is that right?  Don't try to be perfect or anyone other than yourself.  Having if sound like you and reflect who you are as a person is part of the charm.
BONUS POINTS: PRESENTation:

Write it on nice paper, maybe a notebook or journal you can reuse for future exchanges between you and your loved one.  Then sign your name with love, and if using paper, seal it in a nice envelope.  The suspense will make your love one cherish the experience of wondering what you wrote on the inside.  Clip it in our Heart Shaped Clip and hang it on the fridge for your loved one to find on Valentine's Day.  You will have given one of the most thoughtful and romantic gifts of all time.
Also, consider that Valentine's Day doesn't stop with your loved one.  If you're in business marketing, you can help your customers and employees enjoy the Valentine's Day spirit with pens and other giveaway items in red or pink.  Everyone loves a gift from the heart!