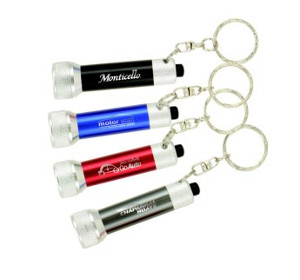 Promotional marketing supplies that provide real utility are in demand these days!
Utility can be boiled down to a simple analogy. Which of these two marketing items would provide better exposure for your brand and a prolonged marketing push for your business – chocolates in a custom printed foil wrapper, or a small LED flashlight sporting your company logo? While there is no denying the positive impact a box of chocolates can make on the morale level in the office, an LED flashlight can continue to deliver real utility for years. And, the positive associations with your logo will extend far beyond the moment the gift is received. An LED flashlight in the glove box of your car will help your clients navigate a dark parking lot safely, can help them gain easier access to their front door, and can even assist them in a roadside emergency situation.
If you're considering ordering promotional marketing items to help grow your business and increase market penetration, keep utility in mind. Your clients and prospects will find repeated use for customizable gifts like USB flash drives, rulers, tape measures, flashlights, piggy banks, tote bags, bottle openers, and more!
If you're in the construction trades and are looking to improve your market position, consider a gift of a carpenter's pencil, tape measure, multi-bit screwdriver pen, carabineer, level, multi-function knife set, or auto safety tool. Any of these gifts are guaranteed to be used often – with your logo and company information right out front for all to see.
Customers or prospects in the financial services industries will love to receive customized piggy banks, calculators, laptop bags, or coffee/travel mugs. Those who are on the road frequently may find great utility from a variety of office themed promotional giveaway items. And the best part? They'll provide a wealth of marketing exposure for your company by deploying your gifts in the field!
At National Pen, we pride ourselves on offering more than just the best value in promotional giveaway items – we also house a massive assortment of truly useful marketing gifts that will help you get your message across loud and clear.