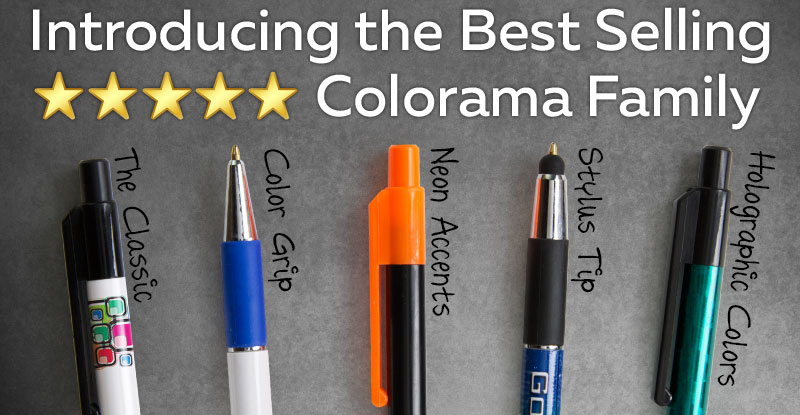 Promotional marketing gifts run the gamut from drinking tumblers to desk organizers, home and kitchen accessories to automotive gadgets and tools. There are countless options available today. But those who have spent a significant amount of time working or managing a tradeshow, conference, business networking event, or large scale marketing campaign, know that the classic writing pen is an undeniably effective promotional tool.
At National Pen, we feel the same way, and we'd like to highlight our five best-selling Colorama Pens that have proven to be relentlessly effective at winning new business, reinforcing existing relationships, and highlighting virtually any business or organization.
Our five best sellers are:
THE CLASSIC: While some promotional marketing gifts rely on gadgets and flair to attract attention, the classic colorama pens rely on rugged simplicity, long-term durability, and a value-oriented price point to create real value. These pens feature a click-action mechanism for total reliability, a plastic barrel that is sized to accept up to five lines of custom text, and a background design that can be sourced from our extensive catalog of design choices. Classic is cool, classic is reliable, and in the case of the colorama series, classic is effective.
THE COLOR GRIP: This incredible pen comes with the legendary SmoothWrite ink cartridge that guarantees a fantastic writing experience. The colorama deluxe pen is upgraded with a colorful gripping surface that is attractive and comfortable to hold, while the pocket clip and rugged click-action mechanism combine to instill this pen with a real sense of purpose. Chrome accents add a nice, subtle touch, while the low price point makes these colorama deluxe pens with color grip ideally suited for high-volume marketing activities.
NEON ACCENTS: This best-selling pen is also one of the newest to be released in the colorama line, and it has made an immediate and lasting impact with clients across all industries. This neon colorama pen delivers stunning good looks and a unique neon color theme that adds a touch of intrigue to these click-action writing pens. Neon trim and pocket clip and plenty of room for up to five lines of customized text create an unbeatable value for a tradeshow handout or mailing gift.
STYLUS TIP: The colorama series of pens are incredible effective as promotional marketing gifts, but add a stylus tip and they become even more potent! A stylus tip makes interfacing with a smartphone, touchscreen, or tablet super easy, while keeping fingerprints and smudges off of the screen for a neater, cleaner operation. Add a soft rubber gripping surface and reliable click-action mechanism and you're bound to make friends when you distribute these colorama deluxe pens with color grip and stylus.
HOLOGRAPHIC COLORS: The basic colorama pen is made that much more appealing when we add a holographic color scheme to the pen barrel. SmoothWrite ink delivers incredible writing performance, while a generously-sized barrel permits plenty of space for your choice of custom imprint. Six holographic colors are available for our colorama sparkler pen with subtle black trim accents to draw serious attention to your brand.
These best-selling colorama pens from National Pen represent tremendous value in a promotional marketing pen. Order a batch of each and get ready to make serious gains with your clients and prospects.