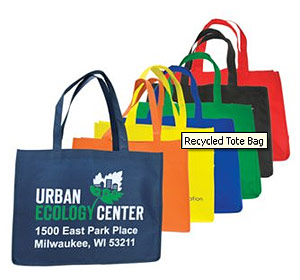 Are you tired of taking home the same kinds of promotional items from trade shows and conferences?  Your clients probably feel the same way!  If customized pens, pencils, and notepads just aren't cutting it for you anymore, crank up your marketing game and feature something different at your next company event: custom bags.  After all, the best promotional items are ones that look good and can be used time and again (and publicize your brand in the process), and what could be better than a personalized tote bag, travel bag, or backpack?
If you're looking for a new way to promote your business and impress your clients and competitors, you've found the right place. You'll love our selection of customizable bags that are perfect for any brand. From personalized duffle bags to briefcases, you're sure to find a style that suits the identity of your company, and, in a time when disposable plastic shopping bags are losing popularity, our reusable tote, and plastic bags are ideal for demonstrating your business's sustainable mindset while getting your name out there in the produce aisle!
Give the crowd something they can use. Consider custom bags for your next promotional takeaway item!