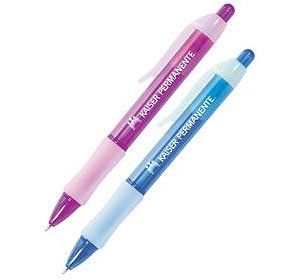 Frosty Pens bring holiday cheer and real utility to your marketing efforts!
When searching for the perfect promotional giveaway item, you'll want to consider a few key points.
First, who is your target audience?
Second, what is your budget and how many people do you want to reach?
Third, is there a season or holiday-based theme that you can capitalize on to drive more business and more deeply connect with your business partners and prospects?
One of the most effective promotional marketing tools you can employ is the customized writing pen. Now, National Pen is proud to offer the Frosty Grip Pen that offers a smooth, pleasing profile with a translucent barrel design and frosted clip. These pens fulfill the three key points above with ease!
While determining your target audience is important, it seems that everyone is happy to receive a customized pen. This makes the question of "who am I really targeting here?" a moot point. Pens are great for just about anyone – tradespeople, medical professionals, businessmen and women, almost everyone uses a pen on a daily, if not hourly, basis. From a budgetary standpoint, you'll want to consider how much you have to spend on promotional giveaway items and how many people you are trying to reach. Customized pens are available at extremely low prices, and your unit cost drops dramatically as your order size increases. The price per pen on a larger order can be nearly half of the price for smaller lots.
Right now is a terrific time to take advantage of the holiday season – with Frosty Grip pens from National Pen. These pens allow for up to four lines of customized information. You can display your logo, business information, company slogan – whatever you feel will help market your organization more effectively. The Frosty Grip pen combines a high-quality translucent barrel with a rubber grip surface and a frosted plastic clip. Available in either translucent purple, blue, red, or green, the Frosty Grip pen will make a tremendous impact on your customers and prospects.