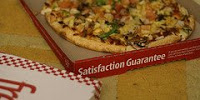 I love Amazon's guarantees. I spend hundreds at Amazon every year. The handful of times I've had a problem, they have refunded my money without any trouble. They're getting way more of my business than other online retailers solely because I trust them.
Offering a guarantee may sound like a dangerous proposition for a small business, but quality assurances can offer major benefits to companies of all sizes. With a good guarantee, you can easily get all of the following benefits:
Increased sales. When customers are hesitant about anything, they are much less likely to buy. A guarantee assures there.s nothing to worry about. Aren.t you more likely to buy something you know is guaranteed?
Did you know 90% of customers say that a good return policy is very important to their purchase decision?

Reduced number of complaints. As strange as it sounds, guarantees reduce the number of returns and complaints. The longer the guarantee, the fewer dissatisfied customers you have.
A point of difference. When looking at two similar products in similar price ranges, buyers are much more likely to try the one with a guarantee. Who wouldn.t?
A chance to improve. If you need to honor a guarantee, it can be taken care of through a replacement product or service. Doing the job again will not only help the customer but also will help you improve your company.
Increased loyalty. Whether a customer invokes a guarantee or not, they will think highly of your brand for protecting them after the purchase. This feeling of goodwill is likely to turn into future sales and referrals.
Whatever your industry, a guarantee can build business and customer satisfaction.
Have you had any good experiences with guarantees?
Photo Courtesy of stephenliveshere