As keyboards and touchscreens continue to dominate our daily lives, the handwritten word has become something of an artform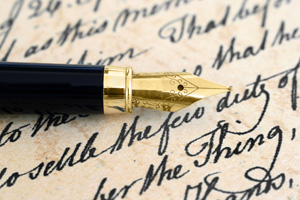 For almost forty years now, National Handwriting Day has been observed on the 23rd of every January – and it was originally created to firmly emphasize the importance of the handwritten word.
Imagine how the world changed in the 1970s, as the introduction of the microprocessor led to the adoption of early compact business computers in the workplace. Computers became a viable office tool in 1977, when the first purpose-built microcomputers came to market. Interestingly enough, this was the first year that we celebrated National Handwriting Day. Every year since 1977, individuals from around the nation have recognized this day as a celebration of all things handwritten.
Why January 23rd?
Ask someone for their "John Hancock" and they'll likely know that you're asking for their signature. Hancock is remembered for many achievements, but his stylish and oversized signature on the Declaration of Independence is probably his most famous mark on history. Since his signature is such a memorable mark on this historical document, the founders of National Handwriting Day decided that January 23rd – Hancock's birthday, would be the ideal day to celebrate all things handwritten.
What's so important about handwriting?
Though electronic means of communication have improved the speed and accuracy with which we communicate, there is no replacement for the written word when it comes to conveying emotion. You'd never see a husband typing up a Valentine's card for his lovely spouse, as the care taken in crafting the words on the card is a part of the emotional message. And, there's a reason why emoticons and other graphic icons have become so popular in electronic communications today – there is a real need to delineate emotion that cannot be extracted from an electronic message. Simply put, handwriting conveys emotion and character in ways that a typed message never could.
What does your handwriting say about you?
On National Handwriting Day, take a moment to analyze your own handwriting. After all, there is a lot that you can learn about yourself by investigating the way you swoop your "e's," how large you write your "I's," and whether you leave much space between words.
For an in-depth and intriguing look at some of the psychological factors that correlate to an individual's handwriting sample, view this infographic from National Pen, entitled What Does Your Handwriting Say About You?
Support the handwritten word – and your business!
To effectively promote your business and drive greater awareness of your brand, consider promotional marketing gifts that combine real world utility with an affordable price point. Writing pens make incredibly effective gifts, as they will see frequent use, can be used by virtually anyone, and cost pennies on the dollar for each unit.
On National Handwriting Day, add a batch of customizable writing pens to your marketing toolkit and you'll shine a spotlight on your brand and drive sales to your organization. To make it even easier, take advantage of National Pen's promotional offer – 15% on all pens when you use coupon code 15OFFPENS. This National Handwriting Day, take your business to the next level by delivering high quality writing pens at discounted prices – only from National Pen.