While 40% of Americans make New Year's resolutions, only a mere 8% follow through and complete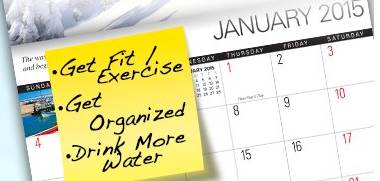 their goals. By early February, even by mid-January, the appeal of a new year and a new beginning has already diminished as we slip back into the mundane routine of everyday life, the exact routine you resolved to break.
While it is unclear what differentiates the 8% successful participants from the 92% failures, we like to think that you have to proactively set yourself up for success and prepare yourself to succeed to truly keep New Year's resolutions.
Did you know that increased exercising, being more organized, and drinking more water are among some of the top resolutions?   And fortunately for you, they are some of the easiest resolutions to prepare yourself for!
1.  Increase Exercise:
Having the right equipment is key. With our Exercise Kit, you will be making use of resistance bands and a step meter in no time. With your progress tracked in the step meter, you'll be motivated to keep going! ...read more