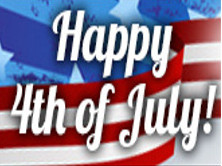 A whopping 150 million hot dogs will be smothered in ketchup, mustard, grilled onions and peppers. Smoke from grills will fill backyards spanning the 3.79 million square miles of our country. Fireworks will decorate the night sky with bright colors and their smoky paths. Memories will be made and laughter will be shared as 41 million Americans enjoy the hospitality of a friends. home this Independence Day.
While the Fourth of July is an iconic American holiday, remembering our independence and all the sacrifice it took to achieve it is far from a lighthearted topic. Our country, the land of the free and the home of the brave, came at a high cost. Patriotism has been well earned and is well deserved from every United States Citizen.
We offer patriotic themes for some of our products so that you can display patriotism on your promotional items. Your product could be your first impression to a new client. Showing your respect and appreciation for the Red, White, and Blue will reflect loyalty to your country and as a company. That will leave a lasting impression like fireworks!