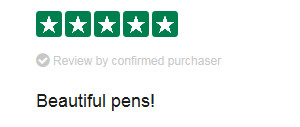 Have you ever gotten an email asking you to review or rate a recent product you've purchased?  Perhaps you have even gotten one from us asking you for a National Pen Company review! It seems as though star ratings and customer reviews are gaining popularity among both retailers and consumers, mostly because reviews have gained substantial credibility among consumers. But why?
Benefits of Company and Product Reviews — Consumers want to know an honest assessment of the product.
Any company, with the desire to sell a product of service, will advertise their product at its best. The commercial or advertisement will show the new product functioning to full capacity exceeding expectations. Consumers are enticed by this, but most are smarter than their initial impulse to buy.
They want to know what to expect at its worst, and they look to other consumers to openly share their experience. Reviews and ratings allow customers to provide their opinions of companies and their products, just as National Pen customers review their experience of our company and products.
Strive for Perfection
While it is nearly impossible to completely satisfy 100% of customers, most companies have embraced consumer reviews and increased customer service efforts to match the goal of consumer satisfaction.   Listening to reviews can teach different departments about the customer they serve and who they want to serve.  Product Development can figure out what they are missing and hitting on from a product standpoint.  Marketing can figure out who is using the product and customer service can offer solutions on how others have been satisfied using your product or service.  Sharing experiences help your company and your customers.  It's a win-win for customers!
National Pen Company Reviews
We, like most companies, use reviews to work on and improve products, as well as share information so that you, as the consumer, can make the best purchasing decision. Pens.com reviews are a great way to get a feel for the products and service we deliver our customers.
While we are pretty sure you will love our promotional items, we.ll let you check out our National Pen Company reviews for yourself at TrustPilot.com!