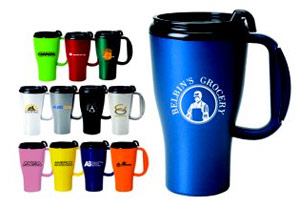 Promotional items are designed to help increase the awareness of your company and its related products and services. Giving a prospect a promotional item that may sit on their desk or office shelf may help you win business. Giving a prospect a marketing piece that travels with them tell the world that you exist and that the user endorses you. This is a powerful, unspoken testimonial that can help spread the word about your organization and does so at little cost.
One of the most effective promotional items for those who want mass exposure for their product is a custom travel mug.
Custom travel mugs come in all shapes and sizes. It makes sense to take some time to truly determine which specific type will help promote your business most effectively. These travel mugs really are mini-billboards and are incredibly effective at generating massive exposure for your organization, all at a low cost. With the increase of consumers who are seeking a greener way to tote their favorite hot or cold drinks, custom travel mugs are not only a great marketing tool, they are also completely practical!
Recipients of your custom travel mugs will take them to coffee houses for their refills, use them at convenience stores to house hot and cold drinks for long commutes, and many will undoubtedly see use at home on the weekends in a variety of ways.
Put your company's message in the hands of your target audience with custom travel mugs, your name will truly get around!