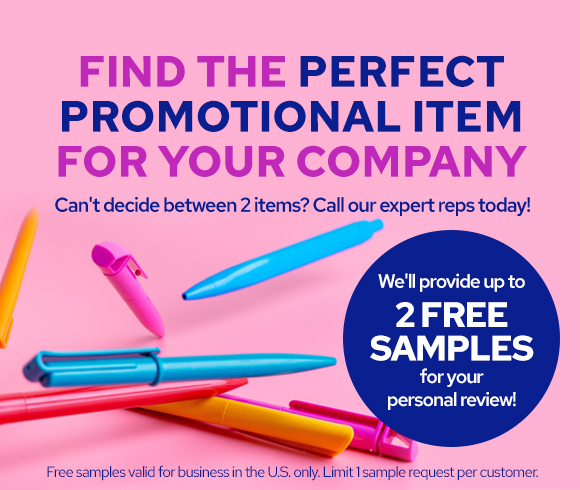 Free Samples of Pens & Promotional Items from National Pen. Call us at: 1-866-900-7367.
Here's How Our Free Promotional Samples Work
You can't get something for nothing, right? Well, that's what they say. Personally, we believe in the power of giving something for nothing. That's what promotional products are all about. They're customized items that you can give away for free as a way to build trust and recognition. At National Pen Company, we believe this practice can work for your brand because it's always worked for us.
We offer free sample pens and promotional items for businesses because we get that this is a big investment—especially for smaller, newer companies. You want to know how these personalized products will look before you take the plunge with a bulk order. Request free samples like a branded pen, keychain, or tote, and better understand how your customers will feel receiving this free product.
Looking for the newest promotional products? See our new antimicrobial pens, logo face masks—as well as disposable face masks—custom hand sanitizers, and more!
Which Sample Items Should I Choose?
Since you can only request your free promotional samples once, select the custom product you're most likely to promote with. If you really want your imprint to last, request the Laser Engraved Paragon Pen. That way you can see the difference that a laser engraving makes on the product.
Or check out our other engraved pens and assortment of personalized pens and pen gift sets. We have a style to meet every type of brand's aesthetic.
You can also select the promotional item that would work best in your industry. The Budget Shopper Tote is one of the best free promotional samples for businesses in retail.
If you own a bar or restaurant, you might want to see how branding looks on the GadgetGuy 3-in-1 Keychain. It's a best-selling bottle opener and custom keychain that discreetly includes measuring tape and a flashlight.
Any Deals for New Customers?
If you like your free sample and you think your customers will too, go ahead and start promoting your brand. When you place your first order with us, you can take advantage of the new customer offer. This allows you to get free shipping as well as skip the setup charge.
So what are you waiting for? Request your free promotional pens and items from National Pen and start making plans to get your name out there with customized products.
Call us at 1-866-900-7367 to request yours today!
Best Value
We make our own products to save you money.
Buy Now, Pay Later
We know you'll love your order, so we give the option to pay later.
Our Personal Promise
You can order risk-free thanks to our guarantee.