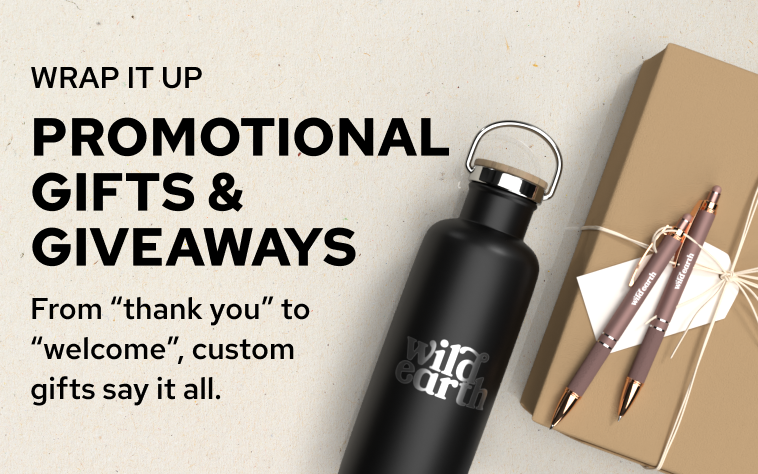 Promotional Gifts & Giveaways
Select from trending promotional products to find your next crowd favorite.
What Makes Promotional Gifts a Great Tool for Small Business Marketing?
Whether it's a customized pen at a customer service counter, a hand-delivered tumbler at a meeting, or a promotional tote bag at a trade show, a promotional giveaway keeps your name top of mind and allows your customers to advertise your business wherever they go.
And if you're a small business, the extra attention of a customized gift reminds your customers of the personal touch they get from doing business with you. Your customers support your business because of the local, homegrown feel they get when they work with you, visit your store, or eat a meal at your restaurant. A customer gift is a great physical representation and reminder of the way you care about your customers.
What Are the Best Promotional Giveaways?
The best customized gifts are stylish and trendy, useful to recipients, and ensure your logo or ad message stands out. Shop for logo gifts that keep your name on display while your customers work, shop around town, travel, and more. Our most popular promotional gift categories include:
Pens: A personalized pen is great for customer service counters,, direct mail, and trade shows.
Totes: Customize a tote or shopping bag for retail, conferences, gym members, and new employees.
Drinkware: Show customer appreciation, welcome employees and students, thank donors, and welcome event guests with promotional drinkware that keeps your name on display all year.
Why Should My Business Have Customized Gifts?
Personalized gifts make your business more...personal! And that's a big reason why customers seek out small businesses. A small token of your appreciation, like a pen, sticky pad, water bottle, or tote bag, goes a long way toward solidifying a relationship with each customer. Update your promotional gifts seasonally or quarterly to coincide with new merchandise, services, menu items, or promotions.
When Do I Give Logo Gifts to Customers?
Just like any gift, a promotional giveaway is always a pleasant surprise! Wrap up a new client meeting with a customized pen, piece of stationery, or drinkware logo gift. Welcome attendees to your event with a promotional tote bag and a custom water bottle. Help guests remember a special event like a wedding or family reunion with a customized coffee mug or a personalized pen set. Show gratitude to long-term customers and annual donors by giving a promotional calendar around the holiday season. From "just because" to "special occasion", your customized gift will always bring a smile.
When Do I Give Personalized Gifts to Employees?
A customized gift is a great way to welcome new employees and recognize existing super stars:
New Hires: Include a logo gift like a backpack or travel bag as part of orientation for employees who will spend a lot of time in the field or on the road doing sales or service. Encourage community spirit by giving new hires customized desk supplies for working in the office or from home.
Milestones: Celebrate years in business, project completion, or the start of a new initiative with promotional giveaways customized with a project name or inside joke. Honor employee tenure with high quality anniversary pens that call out 5, 10, or 20 years.
Holiday Gifts: End of year business goals and customer needs can make holidays especially stressful. Make sure your team knows you care with customized gifts for special holidays.
What Are Trending Promotional Giveaways for Trade Shows?
Trade shows, conferences, and conventions are a great way to connect with new customers and generate excitement around your brand. Promotional giveaways draw prospects to your booth or breakout session, and keep your name top of mind when you follow up after the show. Trade shows offer you the unique advantage of a captive audience, so make sure you come confident and prepared to your next industry event with logo gifts everyone will love:
Pens: Pens are lightweight to ship to your event, and easy for attendees to take back home. Get second glances when you give an engraved stylus pen or a multi-use flashlight pen. For high value encounters, consider a pen and flashlight set.
Notepads and Journal Books: Trade shows involve meeting people, making connections, learning new things—and lots of notetaking! Stay ahead of the competition by making sure it's your name on the notebook they're keeping close at hand.
Totes: Stock up the registration area with customized totes and drawstring backpacks that advertise your name. Guests will appreciate a helpful tote on their shoulder as they maneuver through the crowds—collecting brochures, paperwork, and freebies with ease.
Tumblers: when you're on your feet all day, walking convention floors or going from lectures to lunches to networking events, hydration is a must. Every attendee will appreciate a brand new promotional tumbler or travel mug as they sip their way through active days.
Shop our full collection of promotional gifts to find the perfect match for your business, budget, style, and occasion. From customers to donors, employees to students, customized gifts ensure every small business relationship means a little bit more.